Alpha Rancher Bear
Bears of Pinerock County, Book 3

---

A take-charge alpha with commitment issues + a midwife who's not about to give up control of her well-ordered life + a roadside winter disaster = an explosive romance that's about to blow up everything they both thought they wanted!
Buy Now!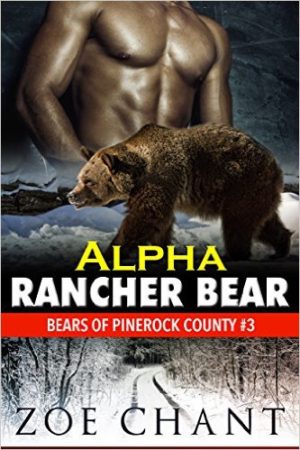 Alec Tanner isn't looking for a mate. The tough, reclusive alpha of the Pinerock County bears likes his life just fine. Even if his solitude is because of his emotional walls rather than actual desire to be alone. Even if there's a part of him that can't help but envy the companionship his clan brothers have found with their mates...
Charmian Russell can't imagine letting a man into her life. The Pinerock County midwife is doing just fine on her own, thanks, and she doesn't want a boyfriend to boss her around. Especially not an infuriating (but smoking hot) alpha like Alec Tanner. Even if he does make her weak in the knees...
But when their car goes off the road in a snowstorm, suddenly these two proud, controlling people have to rely on each other if they're going to make it back alive. And there's nothing like trying to keep warm in a blizzard to make it harder to fight the sizzling attraction pulling them together. Can they learn to let someone else in, and find the happiness they've been missing?
Alpha Rancher Bear is a hot, standalone bear shifter romance, third in the Bears of Pinerock County series. No cliffhangers!
Preview:
Click on the "Preview" button below the cover to read an excerpt of this book.