Bear Down and Bear Watching Boxed Set
---
This boxed set collects two red-hot BBW bear shifter romances: Bear Down and Bear Watching. Save 30% off the individual cover price!
Buy Now!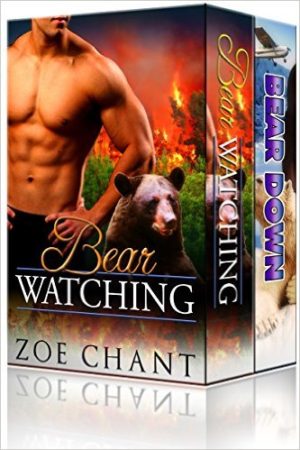 In Bear Down, a BBW biologist + a bear shifter pilot + huddling for warmth in the wilderness = one blazing-hot story!
Wildlife biologist April has given up on love. She's curvy, stubborn, and wears jeans and boots instead of skirts. If that wasn't bad enough, her job takes her all over the North American continent. What man would want that?
Hunky bush pilot Nathan has spent his whole life hiding his true polar bear shifter nature. But when gorgeous April walks into his life, his bear wants to rise up and claim his mate. Unfortunately, all April wants is a pilot to fly her across the Canadian tundra to count polar bears. But Nathan's touch sets her on fire ...
After their plane goes down in the wilderness, the two give in to their red-hot passion. But can their love survive April's discovery of Nathan's secret? And when they get back to civilization, can the bear and the girl who loves bears find their happily ever after?
In Bear Watching, a BBW park ranger + a bear shifter smokejumper + a lonely fire-watcher's post = one red-hot fire between the sheets!
Some women would hate being stuck in a remote fire-watch tower, but for curvy Angie Dearborn, it's a peaceful retreat to nurse her broken heart. Love? Who needs it? She's got books, a dog, and the world's most solitary job. And she likes it that way. Until Hudson comes into her life ...
Bear shifter and firefighter Hudson Pierce knows Angie is his destined mate as soon as her touch sets his body and soul aflame. Emotionally wounded Angie doesn't believe they have a future together, but this sexy smokejumper is determined to mend her broken heart and prove to her that their love is possible.
Will it take a real forest fire to ignite their fire?

Two scorching, standalone bear shifter romances in one convenient boxed set. No cliffhangers!
Preview:
Click on the "Preview" button below the cover to read an excerpt of this book.