Bear Down
---
BBW biologist + bear shifter pilot + huddling for warmth in the wilderness = one blazing-hot story!
Buy Now!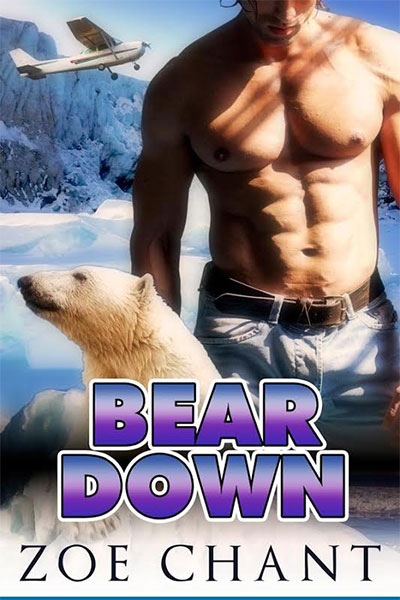 Wildlife biologist April has given up on love. She's curvy, stubborn, and wears jeans and boots instead of skirts. If that wasn't bad enough, her job takes her all over the North American continent. What man would want that?
Hunky bush pilot Nathan has spent his whole life hiding his true polar bear shifter nature. But when gorgeous April walks into his life, his bear wants to rise up and claim his mate. Unfortunately, all April wants is a pilot to fly her across the Canadian tundra to count polar bears. But Nathan's touch sets her on fire...
After their plane goes down in the wilderness, the two give in to their red-hot passion. But can their love survive April's discovery of Nathan's secret? And when they get back to civilization, can the bear and the girl who loves bears find their happily ever after?
Bear Down is a standalone BBW bear shifter romance. No cliffhangers!
Preview:
She picked her way over and around more junk, and looked behind a makeshift partition made of unpainted plywood —and straight into a scene out of her wildest dreams.

The area was lit brightly by halogen shop lights. A large piece of metal that looked like a panel section from an airplane was clamped between two anvils up on concrete blocks. And the most gorgeous man she'd ever seen was swinging a hammer at it.

He was stripped to the waist , wearing nothing but tight jeans and heavy work boots. His light bronze skin gleamed with sweat, and muscles rippled and bunched in his powerful shoulders as he raised the hammer for another blow. Unlike a lot of big guys, his enormous body was perfectly proportioned, broad shoulders tapering to a trim waist with rippling abs.

April had to stop herself from stuffing her fist into her mouth. Oh. My. God. She never realized men came looking like that.