Shifting Sands Collection 2
Shifting Sands Resort, Book 06

---

Danger, adventure, romance, and laughter: find your escape at Shifting Sands Resort!
Buy Now!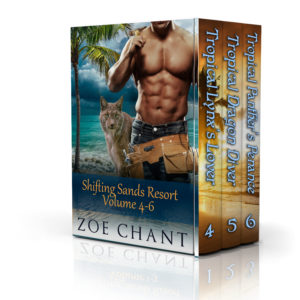 Shifting Sands Resort is a (clothing optional!) luxury resort for shifters only. Come to find love and tasty treats of all kinds - but stay for the heart-pounding adventure and mystery.
In TROPICAL LYNX'S LOVER, Handiman Travis can fix anything but his mate's broken soul and Jenny has to figure out how to come to terms with the otter who shares her skin.
In TROPICAL DRAGON DIVER, lifeguard Bastian is an abnormality of a dragon who loves water and would rather save people than fight. But when he rescues the mermaid who is his destined mate, he ends up battling his past to save her.
In TROPICAL PANTHER'S PENANCE, tough and streetwise Wrench finds himself in unknown territory as he wooes the gentle swan shifter Lydia. His past catches up with him, and he also has to shelter his 8-year-old niece, keep her a secret, and uncover an assassin.
Combining sizzling romance with laugh-out-loud humor and plenty of thrills, the Shifting Sands Resort series is a must-read for fans of T. S. Joyce, Terry Bolryder, and Lisa Ladew.
Now you can save 30% on the next three books with this convenient box set. Relax on the sands with a tropical drink and a taste of adventure. No cliffhangers!
Preview:
Click on the "Preview" button below the cover to read an excerpt of this book.