The Hawk and Her LumBEARjack
---
BBW hawk shifter + lonely bear shifter lumberjack + ice storm = one red-hot weekend!
Buy Now!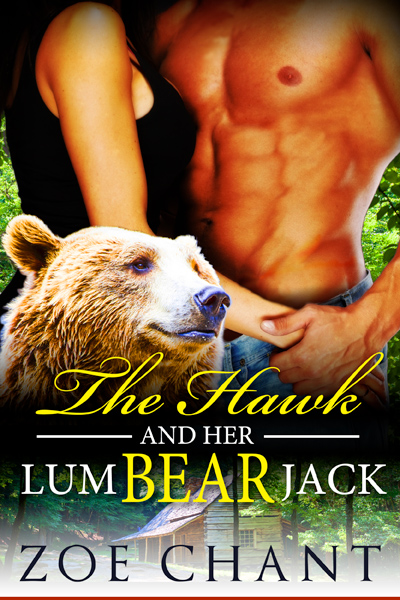 Curvy Felicity Groves is a Minneapolis fashion designer with no time for dates or mates. During the work week, she's on the go 24/7, and on weekends this high-flying hawk shifter stretches her wings in the Minnesota wilderness. Then fate steps in ...
Hunter Holt never thought he'd find a mate at all. The big, shy bear shifter lives alone in a cabin in the Minnesota woods, working as a lumberjack. Women are scarce up here, and he got burned once already. But when he rescues this sexy hawk shifter from an ice storm, he loses his heart as soon as he looks in her eyes.
After a weekend of unforgettable passion, Felicity fears she's made a mistake and flies back to the city. But Hunter's not about to let the most amazing woman he's ever met get away. Can he convince his beautiful hawk shifter that they both gave up on love too soon?
This is a standalone BBW bear shifter romance. No cliffhangers!
Preview:
Since it was becoming clear that Hunter didn't plan to make the first move, she carefully let the blanket slip down—not enough to be completely indecent, just enough to expose her generous cleavage and the swelling curves of the tops of her breasts. She saw his eyes flick down. He was definitely taking interest, and the hawk inside her gave a wild cry of eagerness.
Preview:
Click on the "Preview" button below the cover to read an excerpt of this book.