A Pair of Bears
---
One lonely cat shifter + two sizzling hot bears who want to share + a whole lot of action (in and out of bed) = one wild and sexy adventure!
Buy Now!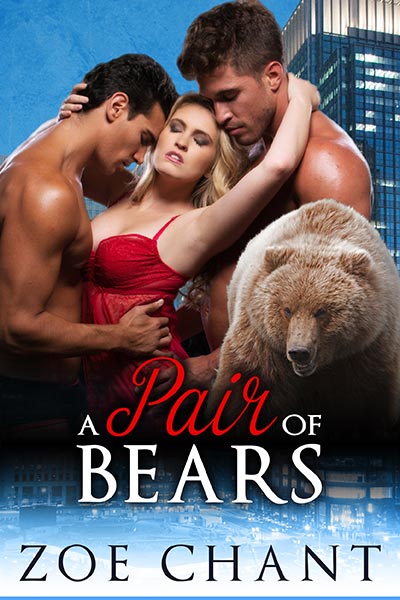 Paisley Clark is an orphan cat shifter who thinks she's the only one of her kind. After a tragedy that changed her life, she became a cat burglar with a mission: to steal from wealthy villains, and give the money back to their victims.
Jackson Ford, a brilliant inventor, and Eli Sterling, a tough Navy SEAL, are best friends and bear shifters with a mission of their own. They need Paisley to help them take down the dishonest CEO who's been providing defective armor to soldiers. But once they meet her, they realize that the lonely cat shifter is the destined mate… of both bears.
Can the very different but equally passionate pair of bears convince a wary woman who's never known love that she's their destined soulmate?
A Pair of Bears is a sexy, standalone MFM menage bear shifter romance. No cliffhangers!
Preview:
She crashed into a solid wall of soft black fur.

A big black bear was blocking the door.

Now in a panic, Paisley began ricocheting from wall to wall, caterwauling and spitting and lashing out with her claws. Within seconds, she'd shredded large portions of the drapes, the bed, and the sofa. She tried to shred the two bears, too, but her claws couldn't penetrate their thick fur.

As she leaped madly past the black bear, it suddenly swung its head and caught her in its strong jaws. Paisley dangled in its grip, helpless as a kitten, howling and lashing about to no avail.

The grizzly bear at the window became a man. He strode nude to the bathroom, grabbed a towel, and deftly wrapped Paisley in it. She spat furiously, but she was completely immobilized.

The grizzly bear man scooped up the Paisley-package, took it to the bed, covered it with blankets, and held the blankets tight.

"Shift back," Grizzly Bear Man demanded. "I swear, we are not going to hurt you in any way."

Black Bear Man— now also a naked man— joined him at the bed. "He's telling the truth. We don't want to hurt you— we want to hire you!"