A Unicorn for Christmas
Shifters for Christmas, Book 4

---

With an undercover unicorn filling in for Santa, it's going to be a very magical Christmas...
Buy Now!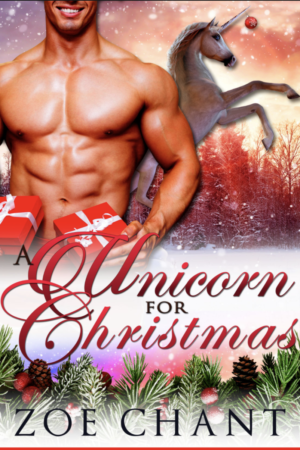 Working over Christmas as one of Santa's little helpers in her local mall might not be Callie's dream job, but she doesn't have much choice if she wants to make rent this month. And green leggings and a hat with a jingly bell aren't exactly what she'd choose to be wearing when the hottest guy she's ever seen turns up to fill in as Santa – he might have washboard abs instead of a belly that shakes like a bowl full of jelly, but right now, Callie will take anyone who can put on a red suit and a beard.
Unicorn shifter and Shifter Patrol Corps agent Declan has still hasn't found his fated mate – and so, according to unicorn tradition, he must return home to his village and fulfil his obligations to his unicorn clan with an arranged marriage. That is, until a case of mistaken identity sees him taking on his most dangerous mission yet: donning a Santa suit, listening to requests for a bewildering array of toys, and trying not to stare at the stunningly gorgeous Christmas elf who's standing next to him, who just happens to be his fated mate.
But when things take a sudden turn and some seriously scary shifters try to kidnap Callie, Declan knows there's only one place she'll be safe: with him, in his hidden unicorn village.
But taking Callie home to meet his family could turn out to be a deadly mistake…
A Unicorn for Christmas is a standalone unicorn shifter romance, packed full of Christmas cheer and sizzling action. HEA guaranteed!
Preview:
Click on the "Preview" button below the cover to read an excerpt of this book.