A Very Meowy Christmas
Virtue Shifters, Book 6

---

Being cool as a cat is harder than it looks when unexpected love strikes!
Buy Now!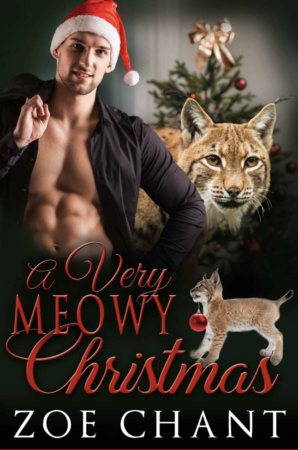 Single dad and bobcat shifter Mason has moved to Virtue to raise his toddler in the safety of a shifter community. But minor catastrophe strikes when his daughter escapes to play in the woods, and the last thing Mason expects when she's found is to meet his mate. His bobcat insists it's meow or never, but Mason isn't ready for the complication of a new relationship.
Veterinary student Chrissy has always known about Virtue's shifters, and even dreamed of finding fated love of her own, but that didn't prepare her for a lost bobcat kitten who turns into an adorable little girl. She can hardly believe it's fur real, but Mason really does seem purrfect.
Mason needs to take it slow. Chrissy hasn't yet wrapped up veterinary school. On the surface, it seems impawssible, but as they spend time kitten around, Chrissy and Mason realize they're already building holiday traditions of their own, and that together, they're going to have a very meowy Christmas.
A Very Meowy Christmas is a sweet, short romantic comedy that will be mewsic to your heart as this charming shifter romance with a guaranteed happily ever after promises that love is meow and forever.