Billionbear and Pair of Bears Boxed Set
---
This boxed set collects the BBW bear shifter romance Bought by the Billionbear and the menage bear shifter romance A Pair of Bears.
Buy Now!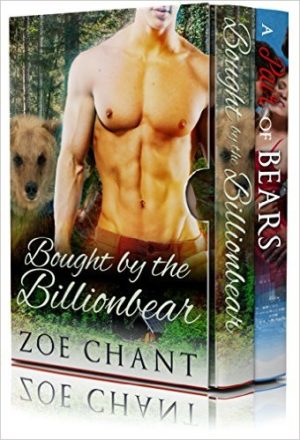 In Bought by the Billionbear, a BBW + a billionaire bear shifter + a bachelorette auction = a broiling-hot story!
When curvy Raina gets stuck in a charity date auction after her best friend has to drop out, she expects to be left standing alone onstage with no bids. But to her shock, sizzling hot billionaire Owen Maguire gets in a bidding war over her… and pays more money than Raina's seen in her entire life for just one date with her.
Raina can't imagine what a sexy billionaire sees in her. But Owen isn't just a billionaire— he's a billionBEAR. He'd almost given up hope of finding his mate when he spotted her onstage… and nothing will stand between the billionaire werebear and the curvy woman he's destined to love.
In A Pair of Bears, one lonely cat shifter + two sizzling hot bears who want to share + a whole lot of action (in and out of bed) = one wild and sexy adventure!
Paisley Clark is an orphan cat shifter who thinks she's the only one of her kind. After a tragedy that changed her life, she became a cat burglar with a mission: to steal from wealthy villains, and give the money back to their victims.
Jackson Ford, a sweet and brilliant inventor, and Eli Sterling, a tough Navy SEAL with a broken heart, are best friends and bear shifters with a mission of their own. They need Paisley to help them take down a company that's providing defective body armor to soldiers. But once they meet her, they realize that the lonely cat shifter is the destined mate… of both bears.
Can the very different but equally passionate pair of bears convince a wary woman who's never known love that she's their destined soulmate?
Enjoy two sizzling hot, standalone bear shifter romances in one easy to read collection!
Preview:
Click on the "Preview" button below the cover to read an excerpt of this book.