Cedar Hill Lions Box Set 1 – Books 1 & 2
Cedar Hill Lions, Book 2.5

---

Two thrilling shifter romances from Zoe Chant's bestselling Cedar Hill Lions series! Strong shifter men fall for their brave curvy mates while protecting them from deadly danger.
Buy Now!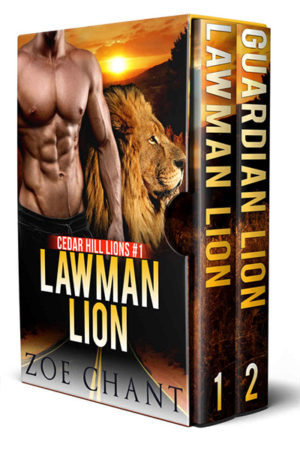 Lawman Lion (Cedar Hill Lions #1): A sexy lion shifter sheriff + an independent BBW who runs a diner + trouble with a local gang = one red-hot romance that will leave you breathless!
Charity Crawford works hard at the diner her father left her. The middle of nowhere on Route 66 isn't the most exciting place to live, but Charity has her hands full with the biker gang that's moving in on her diner. She can't fight them off, and the local police won't help... until the new sheriff in town walks into her diner, and into her heart.
Lion shifter sheriff Mason Whittaker has lived all over the map, but he always seems to end up back home in the end. And when a group of shifter bikers start making trouble in his hometown, he knows he can't sit idly by. But to his surprise, the gorgeous woman he rescues is the fated mate he never thought he'd find.
The connection between Mason and Charity can't be denied, but the looming danger threatens to tear them apart. The biker gang wants Charity's diner – and they won't stop until they get it. Can Mason keep her safe and win her heart?
Guardian Lion (Cedar Hill Lions #2): A curvy, confident accountant + a sexy lion shifter bodyguard sworn to protect her + a terrifying kidnap attempt = one roaring romance!
Curvy Daphne Pearce, the daughter of a movie star and a senator, loves her so-called 'boring' job as an accountant and the quiet life she's made for herself away from the camera's glare. But when a dangerous criminal organization discovers her true identity, Daphne finds herself in desperate peril.
After twelve years in the army, lion shifter Heath Whittaker is adjusting to civilian life and putting his skills to work as a bodyguard. But he doesn't expect that his new job will lead him straight to the most beautiful woman he's ever seen… who also happens to be his fated mate.
Irresistible heat builds between Daphne and Heath as he struggles to keep her safe, and the lurking danger becomes even more serious than either one of them suspected. Can Heath keep Daphne safe from the deadly enemies that surround them?
This box set contains two standalone BBW lion shifter romances. No cliffhangers!
Preview:
Click on the "Preview" button below the cover to read an excerpt of this book.