Choosing the Billionaire Dragon Shifters
Gray's Hollow Dragon Shifters, Book 4

---

A BBW in a small town + twin dragon shifters in need of a mate to share + the most hotly contested mayoral election Gray's Hollow has ever seen = one sexy story that's a win/win/win!
Buy Now!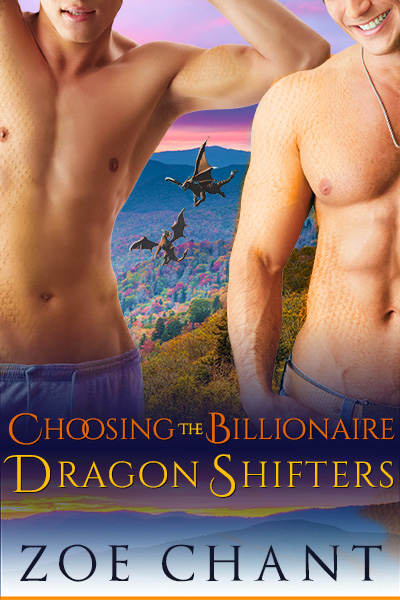 Hannah Cole has been the Deputy Mayor of Gray's Hollow for four years, and with the current mayor stepping down, she's about to get a new boss. Twin dragon shifters Radu and Sorin Gray are coming back to town after years away, and Radu is a shoo-in to be elected as the next mayor. When Hannah finally meets the twins for the first time she's stunned to realize that she's destined for both of them, but it makes for an easy choice!
Sorin Gray first recognized his mate four years ago, when he saw a spirited and full-figured redhead running for mayor against his brother. She lost the election, but Sorin knew Hannah was meant for him--but he thought that meant his twin brother Radu was out in the cold. When they find out Hannah is meant for them both, it seems like their happily ever after is a sure thing--until Hannah finds out Sorin and Radu have been holding back, and she wonders if destiny leaves her any room to choose.
Radu and Sorin know they have to win their mate by letting her make her own choice, and they make sure she's not the only one who knows she has options. Hannah's vote is the only one they're campaigning for, but what happens to an election when true love is on the ballot?
Choosing the Billionaire Dragon Shifters is a standalone dragon shifter menage romance. No cliffhangers!
Preview:
I don't think I'm wearing the right dress for this, Hannah thought absurdly.

She was standing in the mayor's office with her hand in Radu's. His twin and Gus and Cara were all looking on, and everyone was waiting for her to promise something.

But that wasn't quite right either. Sunny shouldn't be all the way over there when she said it. Radu and Sunny were inseparable.

Hannah kept her eyes on Sunny as she said, "What about you?"

Radu's hand tightened on hers. When she looked up at him—way up, she'd never stood close enough to realize just how tall he and Sunny were—he was smiling wider than ever.

"Yes," Radu said, looking over at Sunny. "What about you?"

Sunny frowned and smiled at the same time, his forehead wrinkling while his mouth turned up at the corners. He came a couple of steps closer, shoving his hands into his pockets.

"What would the mayor and deputy mayor want with me?" Sunny asked.

Radu huffed. "You are not the stupid twin."

"Well…"

It finally started to dawn on Hannah what she was feeling, what it meant.

"You're a package deal, aren't you? Anyone who votes for Radu knows they're getting Sunny—"

"Sorin," Radu murmured fondly, squeezing her hand again.

She glanced up at him, and looked over at Sunny—Sorin, to Radu. And to her. Because she was—because they were both—

"Sorin," Hannah corrected herself. "Can't have one without the other. Everybody knows that."

Her voice shook a little, but she knew that she meant it, though it made her heart pound to say it out loud. God knew she'd heard enough descriptions. Gus had told her about how it felt when he met Cara at least a hundred times. Ilie's recognition of Becca as his mate had been literally life-altering.

And now she was standing here holding Radu's hand, reaching out for Sorin. Now she, Hannah Cole, was feeling that combination of burning need and rock-solid certainty that she'd heard about so many times. For both of them. Not one or the other. Both.

A package deal.