Condor Deck Party
Buy Now!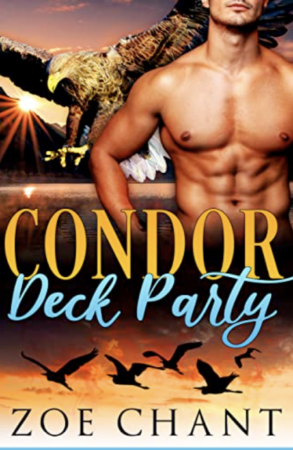 When Ros's best friend offers her an all-expenses paid vacation to a cabin in the Northwoods, Ros jumps at the chance to get away from it all. Her apartment's flooded, she lost her job, her boyfriend ran off to France, and it seems like her luck can't get any worse… and that's when the fire condors show up.
The flaming deadly birds of legend have set up shop on the deck, and Ros's only chance to get rid of them lies with an animal rescue specialist named Teagan Howell. She didn't expect the fire condor deck party, and she sure as heck didn't expect Teagan, big, blond, and with a smile that could melt winter itself.
Eagle shifter Teagan was ready for trouble, but he wasn't ready to find Ros, his true mate. Now all he has to do is tell her about shifters and how he's completely hers before the fire condors set the Northwoods aflame...