Day Care Dragon
Bodyguard Shifters, Book 4

---

"Put me down, you ... thing!"
Buy Now!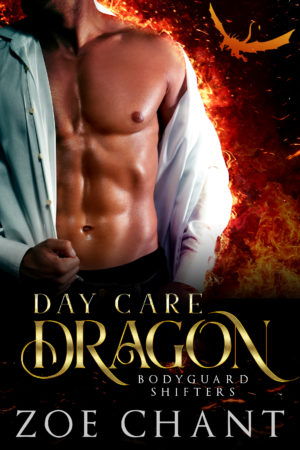 ... were not the first words Loretta expected to say to the love of her life. Look, you try having a dragon snatch you out of a burning building when all you're wearing is a towel.
He just saved her life. Why doesn't she look happy about it?
Billionaire dragon shifter Darius is a man in control—of his business, his family, his life. But stubborn, outspoken, redheaded Loretta and the rowdy preschoolers at her day care are about to turn his well-ordered life upside down. The fire at Loretta's apartment was no accident, and the closer he keeps her, the safer she'll be. But Loretta's not about to let anyone treat her like a treasure to be locked up for safekeeping.
Even if two stubborn people can overcome the odds and fall in love, it's going to take all Darius's strength and Loretta's wits to keep a dangerous enemy from sending their chances at a happy ending up in smoke.
Day Care Dragon is a full length paranormal romance with humor, heart, and suspense. If you like T.S. Joyce, Terry Bolryder and Harmony Raines, one-click today!
Preview:
Click on the "Preview" button below the cover to read an excerpt of this book.