Defender Hellhound
Protection Inc: Defenders, Book 3

---

He's the only one who can save her. And only she can save him from himself.
Buy Now!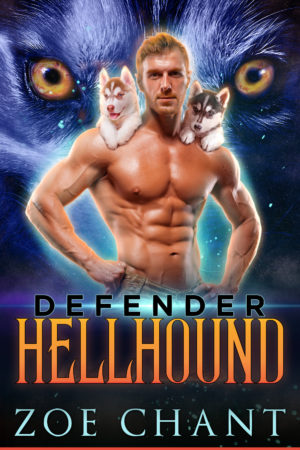 Ransom's out-of-control hellhound has made his life, literally, a living hell. His beast can reveal any secret to him, but Ransom can't make it stop. He's barely holding onto his sanity, drowning in a deluge of the worst moments of other people's lives. It even got him kicked out of his last refuge, the bodyguard agency Protection, Inc: Defenders.
But it finally brought him something good: a vision of a woman in danger that led him to her.
His one true mate has only a year to live.
After an accident damaged Natalie's heart, any excitement, from a car chase to a scorching hot kiss, could make her drop dead. But a life without joy is no life at all, so she embarks on a road trip to tick off every item on her bucket list before her time runs out. Natalie's more than happy to drag a smoking hot bodyguard (not to mention a pair of adorable teleporting puppies) along with her. Even though acting on her desires could give her a literal heart attack ...
From a theme park called Tomato Land (it's exactly what it sounds like) to a terrifying reckoning with Ransom's inner beast to a showdown with a deadly enemy, it'll be the road trip of a lifetime. But he's not the only one with secrets. It's hers that just might save--or doom--them both.
Preview:
Click on the "Preview" button below the cover to read an excerpt of this book.