Defender Raptor
Buy Now!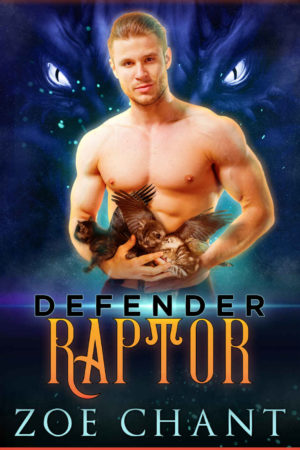 The problem is, it is his circus. Literally.
Merlin grew up in a traveling circus where all the performing animals are shifters. Not to mention that it's a front for an international crime ring. (It's a long story.) And that's just the beginning of his secrets... all of which he's determined to keep from his bodyguard team of misfit shifters, and desperate to hide from his mate.
Too bad that his circus stole her priceless family heirloom... and she's hired him to get it back.
Dali just got mugged by a flock of pigeons. And you thought you were having a bad day.
Her Navy career blew up in her face, pigeon shifters stole her grandmother's necklace, and the cops won't even take her police report. On the plus side, an adorable flying kitten just adopted her, and the man she hired to retrieve the necklace is the sexiest guy she's ever laid eyes on. Sure, he turns into a velociraptor, but everyone's got baggage.
But what she doesn't know can hurt her...
Love romance jam-packed with action, passion, comedy, and heart? Get ready to fall in love with the Defenders, and one-click on Defender Raptor today!
Preview:
Click on the "Preview" button below the cover to read an excerpt of this book.