Dragon Shifter Christmas
---
Two dragon shifter romances - your perfect sweet and spicy treat this Christmas!
Buy Now!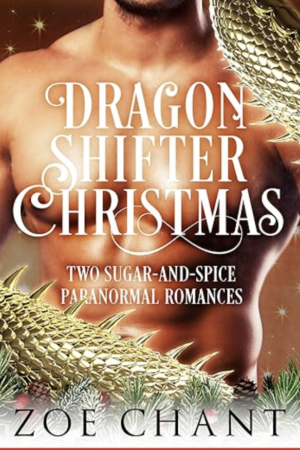 Have you been nice...
He's the Christmas dragon. And she hates Christmas.
Jasper has five days to win his mate's heart - or he will lose his inner dragon forever. But can he convince grinchy Abigail that true love is real, when for her, Christmas is the most un-magical time of the year?
A Mate for the Christmas Dragon is a reverse grumpy-sunshine holiday romance full of festive fun, loving families, and shifter hijinks.
...or naughty?
He's her worst enemy. And her fated mate. It's time to get her claws out.
True love's first kiss has never been so aggravating. Arrogant dragon shifter Mordecai cost Peony everything. And now she's meant to fall in love with him? Nuh uh. Even if he is the most handsome man she's ever met, and his cold exterior is hiding a sweetness she never expected...
Fur flies in Her Purr-fect Christmas Mate, an enemies-to-lovers paranormal romance featuring a dragon shifter hero with a secret, and a cat shifter heroine with a grudge.
This Christmas bundle features two standalone dragon shifter romances. Christmas magic and happy-ever-after guaranteed. No cliffhangers, all sweet and spicy holiday fun!