Eren
Westerly Cove, Book 2

---

A beautiful stowaway pursued by trouble, and a protective bear shifter who would do anything to keep her safe!
Buy Now!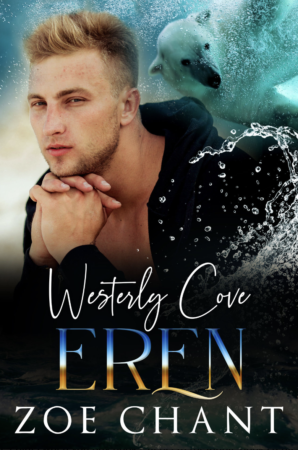 Eren hadn't expected the person hiding on his boat to be so small or so ... female.
He let go in surprise.
She immediately tried to duck around him.
Eren grabbed her around the waist. She started kicking him. For someone who didn't weigh half what he did, she was extremely energetic.
"Let me go!" she yelled, struggling. In his attempt to contain her, Eren stumbled into the wall and bashed his head on the ceiling, which was low enough that he normally had to duck.
"Whoa, hey, I'm not going to hurt you! I'm just trying to stop you from hurting yourself—or us. There's nowhere to go out there, just water. We're on a boat, after all."
She was starting to relax in his arms, though it was the tense kind of relaxation that suggested she might be gearing up for another fight.
"If I put you down, will you be easy about it? This is my family's fishing boat. I just want to talk."
"Okay," she said after a moment.
Eren carefully set her down. He was prepared to stop her if she tried to make another break for it—he didn't want to have to fish her out of the sea—but she stayed where she was, and as the light coming down the stairs from the pilothouse fell across her face, he got a look at her for the first time.
She was beautiful.
She was his mate.
Return to Westerly Cove and the Nilsson family in the second book in the Westerly Cove series, with love, laughs, heat, and a guaranteed HEA.
Preview:
Click on the "Preview" button below the cover to read an excerpt of this book.