Euan
Outback Shifters, Book 3

---

He's a rough, tough Outback shifter bodyguard, protecting his mate on his hardest assignment yet: her six-year-old niece's birthday party.
Buy Now!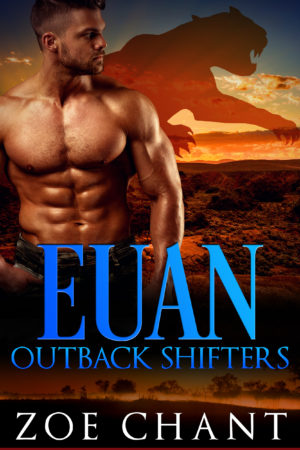 Delilah is the ugly duckling of her family, a struggling artist overshadowed by her stylish sister. After a chance encounter in an alley, though, she WISHES her biggest problem was her sister's perfect Instagram-ready fairy bread and constant attempts to set her up with Mr. Wrong.
Now Delilah has mysterious monsters after her, powers she can't control, and the hottest guy she's ever seen guarding her – ahem – body.
Euan has been struggling with loneliness and emptiness ever since losing his ability to shift. With his marsupial lion gone, he can't keep up with his all-shifter team, and worst of all, he won't be able to recognize his mate. She could walk right by him on a crowded street... or run into him in a dark alley and accidentally throw a giant scoop of gelati in his face.
Delilah needs a bodyguard. And Euan's the only man she wants for the job, shifter abilities or not.
From there, it's a deadly race against time to discover the reason behind Delilah's mysterious powers, and unravel the secret of what's lurking within the murky depths of Sydney Harbour…
Preview:
Click on the "Preview" button below the cover to read an excerpt of this book.