Fire & Rescue Shifters Collection, Books 1-3
Fire & Rescue Shifters Collection, Book 1-3

---

Dragon. Pegasus. Griffin. Phoenix. Together, these shifters can fight any fire... almost.
Buy Now!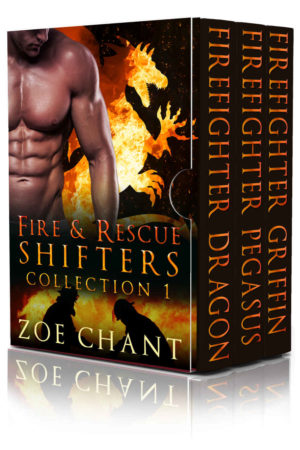 Whether it's a rogue dragon or just a scared little lion cub shifter stuck up a tree, the firefighters of Alpha Team can handle any emergency. But there's one inferno even these powerful alpha heroes can't fight... the fiery passion sparked by their true mates!
Combining pulse-pounding romance with laugh-out-loud humor and fascinating mythology, the Fire & Rescue Shifters series is a must-read for fans of TS Joyce, Sherrilyn Kenyon and Gina Showalter. With 400+ five star reviews, 35,000+ copies sold, and over 10 million Kindle Unlimited page reads, these spellbinding books have captivated paranormal romance readers worldwide.
Now you can save 30% by getting the first three books in the Fire & Rescue Shifters series in this convenient box set. Contains strong curvy heroines, sexy British shifters, interracial fated mates, and absolutely no cliffhangers!
Warning: Steamy scenes and shifter heroes hotter than the fires they fight. If you can handle the heat, one-click now to get three books that will set your heart aflame!
Preview:
Click on the "Preview" button below the cover to read an excerpt of this book.