Firefighter Pegasus
Fire & Rescue Shifters, Book 2

---

A curvy pilot wary of flighty men + a firefighter pegasus shifter determined to win her heart + a high speed air race with even higher stakes = one explosive romance!
Buy Now!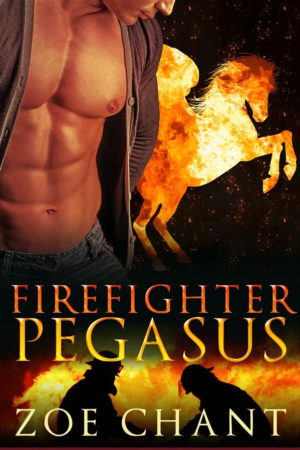 Curvy pilot Connie West hates taking risks. But when her reckless father stakes her beloved airplane in a bet with a ruthless loan shark, Connie is forced to enter the Rydon Cup, a dangerous high-speed air race. To win the bet, she needs a co-pilot she can trust completely. Someone cautious and sensible. Someone completely unlike the gorgeous, wild Chase…
Pegasus shifter and firefighter Chase Tiernach lives life at top speed, but not even his close friends in his elite, all-shifter fire crew can guess that his ready grin conceals a broken heart. Three years ago, he met his fated mate Connie… and lost her again, thanks to his reputation for recklessness.
When Chase unexpectedly rescues Connie from a fire, he's determined that this time, he'll win her trust. All he has to do is fight off a gang of criminal shark shifters, defend Connie from a mysterious assassin, convince her to marry him so his clan will let him tell her he shifts into a flying horse, and win a perilous air race in a vintage warplane! What could possibly go wrong?
With enemies who'll stop at nothing to prevent her from winning the bet, Connie is in danger of losing her plane, her life — and, most frighteningly of all, her heart. Can Chase persuade her to take a chance on him, or will their love crash and burn… again?
Firefighter Pegasus is a sizzling hot, standalone BBW pegasus shifter romance. No cliffhangers!
Preview:
Click on the "Preview" button below the cover to read an excerpt of this book.