Green Valley Shifters Collection 2
Buy Now!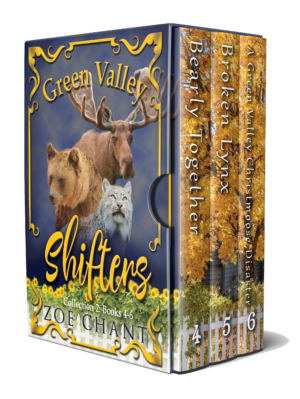 Return to the quirky and quaint Green Valley for three standalone novels about secret shifters in a sweet small town, plus three bonus short stories!
In Bearly Together, lawyer and lion shifter Shelley only looks like she's got her life in order. Meeting her mate makes her face all of her greatest fears—like a seven-year-old boy and a shaggy dog.
In Broken Lynx, prankster Jamie returns to Green Valley to find a gorgeous guy waiting tables who makes settling down feel like it's not settling.
In A Green Valley Christmoose Disaster, It's the moosed wonderful time of the year, and Turner's got a mate to woo..which would be much easier if he wasn't trapped in his house as a moose.
Hilarious and full of heart, this collection of three standalone novels includes the exclusive short stories: Keeping Secrets, Joyous Tidings, and The More Things Change.
Preview:
Click on the "Preview" button below the cover to read an excerpt of this book.