Her Christmas Phoenix
---
All she wants for Christmas is a sizzling hot shifter... and a flock of movie-quoting penguins.
Buy Now!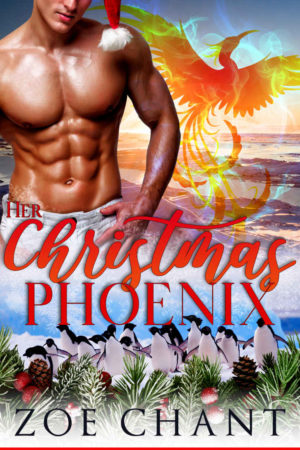 Avery loves working in Antarctica, but when she winds up spending the holidays alone at her research station, it's hard to find any Christmas cheer. Then there's the cascade of unwanted--and unclothed--photos guys on her dating site keep sending her. (Of all the things in the world to deck with boughs of holly…)
It's been a rough year. She just wanted something merry and bright.
He's her perfect gift. She's his perfect match.
Ice phoenix Emmett Frost is used to being alone for the holidays… and the non-holidays. He's the guardian of all Antarctica, and that's a duty he'll never give up. So that means being lonely, right? No one else would want to spend their life at the South Pole. At least he can talk to all the Antarctic animals... although turning the penguins into big movie fans might have been a mistake. (Who knew they'd wind up so obsessed with Alfred Hitchcock?)
Then he meets Avery, a smart, curvy penguin researcher who blows his mind. Emmett's just supposed to keep her company for Christmas, but soon he wants to keep her company forever. She's his true mate, and he has to figure out how to tell her—and how to start believing he might deserve her.
It would all be easier if they didn't have to deal with opinionated penguins and a rampaging polar bear that doesn't seem to realize it's on the wrong continent. But then, the holidays are busy for everyone…
Preview:
Click on the "Preview" button below the cover to read an excerpt of this book.