Her Purr-fect Christmas Mate
---
His kiss turned her into a cat.
Buy Now!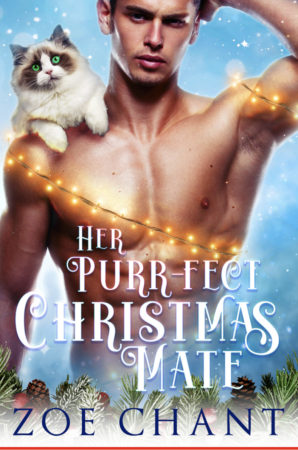 Kissing her fated mate was meant to give Peony the power to transform into a mystical creature—not a cute little kitten. And her true love was not meant to be arrogant, powerful Mordecai Leith, who plans to knock down her beloved bookshop and throw her out of her apartment right before Christmas.
Fall in love with him? She'd rather kiss a frog. Unfortunately, her cat has other ideas.
Dragon shifter Mordecai never meant to lose his heart, but one taste of Peony and he fell so hard he left a crater. He'll do whatever it takes to make this grumpy kitty purr by Christmas—and with a pinch of holiday magic, the biggest mistake of Peony's life might turn out to be the best Christmas gift of all.
Her Purr-fect Mate is a standalone enemies-to-lovers Christmas shifter romance. Happily-ever-after guaranteed!