His Magical Pet
Multi-Author Anthologies, Book 2

---

Have a shot of concentrated joy, with nine stories of men in love... and their adorable magical pets!
Buy Now!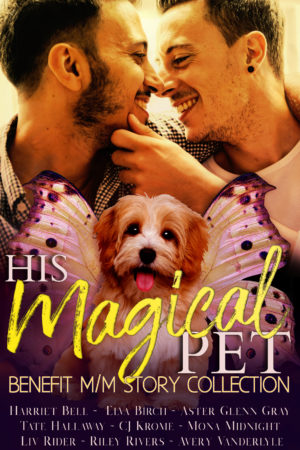 All proceeds from the collection will be donated to OutRight Action International, which fights for the rights of LGBTIQ people worldwide.
In this enchanting collection, supervillain husbands apply to adopt a cat, a dog with wings helps old friends confess hidden desires, a tour guide for an island of magical New Zealand wildlife falls for a visiting naturalist, and much, much more!
Includes all-new stories from Tate Hallaway, Aster Glenn Gray, Liv Rider, and more of your favorite authors.
"Chitter-Chatter," by Riley Rivers. A chatty squirrel, accidentally given the power of speech through a spell gone wrong, tries to matchmake her two favorite humans - who unfortunately can't stand each other.
"Catastrophe," by Liv Rider. Matthew's new protection spell needs some workshopping. Especially since it keeps making his cat suddenly appear in his hot new neighbor's apartment.
"Care and Feeding," by Aster Glenn Gray. Gabriel and Dmitri seem stuck as platonic friends... unless Gabriel's flying bichon frise Moppet can help them see each other in a new way.
"Throw Me a Bone," by Elva Birch. New werewolf Lucas is forced to masquerade as his own pet when he chases his runaway collie right into the yard of his neighbor crush.
"If Not for the Rat," by Avery Vanderlyle. A Changeling and his human lover pick up a pet rat that is much more than it seems.
"Fate and Your Average Supervillain," by Tate Hallaway. Supervillain husbands try to craft the perfect application to adopt a cat from annoyingly picky agencies.
"Now You See Me," by CJ Krome. A ghost bird brings a lonely ghost and a hot human together… but can they stay together?
"In a Blink," by Mona Midnight. Alec's cabin getaway is just an excuse to work on his thesis--until a friendly cat and her sweet, gorgeous owner turn his trip into the perfect vacation.
"Gulls and Snails and Quokka Tails," by Harriet Bell. Nik wasn't keen on guiding a bunch of visitors around his family's island of magical New Zealand wildlife - but then he met the handsome naturalist who'd signed up.
A charity anthology of light-hearted, bite-sized happy-ever-after short stories and novellas.
Preview:
Click on the "Preview" button below the cover to read an excerpt of this book.