Outback Shifters: Collection One
Outback Shifters, Book 3.5

---

The Australian outback is wild and beautiful, but unknown dangers lurk around every corner. Luckily there's the Agency, a team of undercover shifter cops who're willing to face every danger and break all the rules to protect their fated mates…
Buy Now!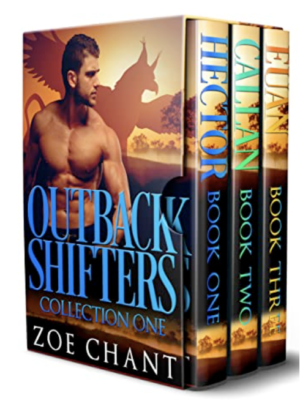 In this collection:
HECTOR: Myrtle came to Australia to study endangered moths, not go on the run in the Australian outback with a baby pegasus and a smoking hot but annoyingly mysterious man. Good thing she's got a level head on her shoulders and can stay calm in a crisis. Still, it's a bit much to expect a lepidopterist to take on criminal gangs and deadly shifters – but lucky for her, her hunky companion has a few surprising tricks up his sleeve…
CALLAN: It was bad enough when Ella's dad ditched her when she was a kid. But now, the life that she painstakingly built for herself is over: her lab has been trashed, her apartment's been torn apart, and the ghosts of her father's past are coming back to haunt her. Running for her life in the wild outback, the only person she can turn to is the hot secret agent who's been sent to keep her safe…
EUAN: Delilah is the ugly duckling of her family, a struggling artist overshadowed by her stylish sister. After a chance encounter in an alley, though, she WISHES her biggest problem was her sister's perfect Instagram-ready fairy bread and constant attempts to set her up with Mr. Wrong. Now Delilah has mysterious monsters after her, powers she can't control, and the hottest guy she's ever seen guarding her – ahem – body. But he has his own problems – and she may be the only person who can help him…
Three complete full-length HEA shifter romances in one collection!