Panther's Passion
Veteran Shifters, Book 3

---

A single mom with a terrifying ex… …and a Marine veteran on fire with the need to protect her.
Buy Now!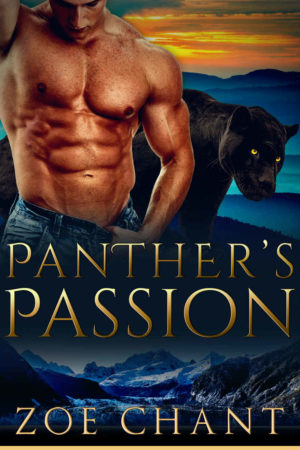 Stella Davidson is caught in a trap. She wants a stable life and a good future for her teenaged daughter—but her old home near Glacier National Park isn't safe. Her ex-boyfriend is stalking her. Once upon a time, she would've just quit her job, pulled up stakes, and left, but she has too many responsibilities now. Which way to turn?
Panther shifter Nate Sanders has dedicated his life to protecting people. First in the Marines, and now running his security company—he wants to keep the world safe. All along, he's been sure that he had everything he needed, sure that families were for other people and casual dating was enough. But slowly, he's realizing that his life feels empty.
When Nate is called in to protect Stella, his world turns upside-down. Suddenly, he understands why a man would do anything to hold on to his family. But how will these two people bring their different worlds and passions together? And what will happen when the stalker takes things too far?
Panther's Passion is a heartwarming and magical romance featuring a sexy hero, a bit of action, a touch of nature, and a lot of family. No cliffhangers!
Preview:
Click on the "Preview" button below the cover to read an excerpt of this book.