Claimed by the Panther (previously Panther's Promise)
Shifter Suspense, Book 1

---

Her magic lets her see what's in his heart. He's afraid of what she will find there.
Buy Now!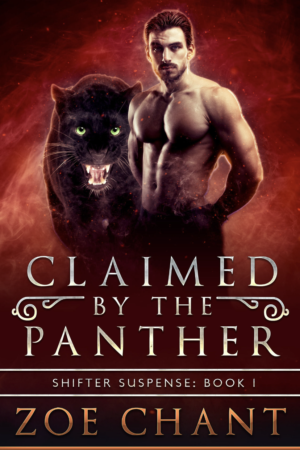 The woman's eyes were dark, a brown so deep they were almost black. When Grant looked into them, he was gripped by a need to protect so overwhelming that it was all he could do not to leap across the room and take her into his arms.
Go to her! his panther demanded. It wanted to break free, to make him shift and stalk through the room on four legs, tail lashing, a barely veiled threat aimed at anyone who would harm her. The scents of the room grew stronger as he came closer to shifting, his animal senses becoming sharper.
He knew what was happening. The thing he feared the most.
This human woman, Irina, was his mate. His soulmate.
All shifters were meant to want to find their soulmate. It was a magic more powerful than their ability to shift, or their telepathic powers. True love; the sacred connection between two hearts.
The mate bond was meant to last forever. But Grant knew how fickle his panther was. Nothing ever held its attention for long.
In one moment, as he stared at the dark-haired woman, Grant's heart was made whole and broke into a thousand pieces.
She was his soulmate. The one woman he would ever love.
The woman the creature in his soul would betray.
Grant always feared his panther's instincts would break his mate's heart. But when a mysterious enemy targets his true love, he'll have to trust the animal inside him to save her life.
Claimed by the Panther is a steamy paranormal romance featuring a billionaire panther shifter, and a curvy human woman who has a secret magic of her own. Book One in the Shifter Suspense series. No cliffhangers, and happy ever after guaranteed!
Preview:
Click on the "Preview" button below the cover to read an excerpt of this book.