Private Eye Bear's Mate
---
A curvy, independent radio DJ + a protective bear shifter detective + a scary stalker = one thrilling romance!
Buy Now!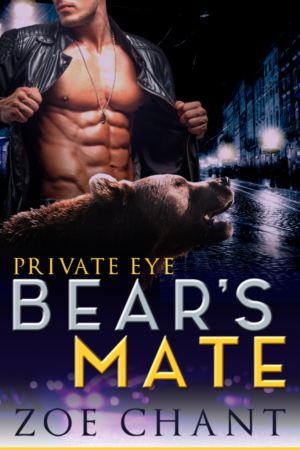 Alison Lawrence is the sultry-voiced DJ behind Up All Night, KJAM's hit late-night show. But off the air, Alison's life is a mess. She works twelve-hour days, hasn't had a night off in months, and the only one who shares her bed is a finicky feline. And lately, she's been getting creepy calls and a frightening feeling that someone is watching her.
Gage Thorson is a private detective with a twist: as a shifter, he can track criminals using his heightened senses. When KJAM hires him to identify Alison's stalker, he's more than up for the job— especially once he learns that her stalker claims to be her mate. Gage knows in his soul that Alison is his mate. But how can he ever tell her that?
First he'll have to gain her trust. Then he'll have to catch her stalker. And then— if he's lucky— he'll claim Alison as his mate.
Private Eye Bear's Mate is a sizzling hot, standalone bear shifter romance. No cliffhangers!
Preview:
Click on the "Preview" button below the cover to read an excerpt of this book.