Shifter Dads Box Set Volume 1
Shifter Dads, Book 3.5

---

Three stories of love, magic, passion, and family!
Buy Now!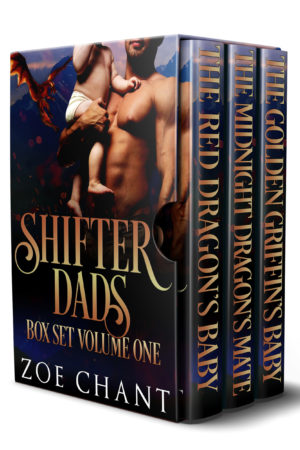 Nestled deep in the Appalachian mountains, the town of Oak Ridge is home to a close-knit community of magical shifters. The men of this town will do anything to keep it safe. And nothing brings out their protective instincts like kids—and brave single moms.
In this box set, you'll find fierce dragons, dangerous exes, adorable babies, loving single dads, fated mates, and plenty of sizzling passion, humor, and action! This set contains the first three self-contained novels in the Shifter Dads series:
THE RED DRAGON'S BABY – Dragon shifter Ronan left his violent home and settled outside of Oak Ridge, determined to keep to himself in a lonely cabin. But when single mom Katie and her baby son Noah stumble across him while fleeing her ex, his heart wakes up and takes flight!
THE MIDNIGHT DRAGON'S MATE – Single dad Lachlan accidentally reveals his dragon form to human scientist Cam while chasing after his six-year-old son. Cam's eyes are opened to a world of magic and wonder—and her heart is caught by Lachlan and little Aidan. But danger waits in the woods!
THE GOLDEN GRIFFIN'S BABY – Lila left her home and pack, taking her two small children, when she learned that her pack leader had her husband killed. Griffin shifter Flynn's hard heart melts when he meets her and her kids, and he'll stop at nothing to protect her from the murderer!
With over 300 5-star reviews, the Shifter Dads series has delighted fans from the start. Check it out today, and fall in love with heroes who know what it really means to be a dad! No cliffhangers!
Preview:
Click on the "Preview" button below the cover to read an excerpt of this book.