Silver Basilisk
Silver Shifters, Book 4

---

You're never too old for a second chance.
Buy Now!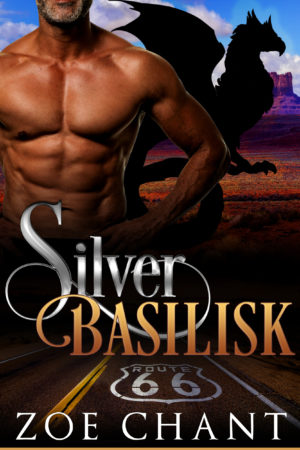 What would you do if the love of your life, who vanished without a trace sixty years ago, walked into the cafe where you're peacefully having tea with your friends, as handsome as ever and calling you his long-lost darling?
If you're Godiva, you throw a custard pie at him.
The course of true love never did run smooth.
Godiva gave up on love ... but love hasn't given up on her.
Basilisk shifter Rigo found and lost his mate when they both were young. After a lifetime of searching for the tough, beautiful, black-haired girl he loved, he's finally found her. He doesn't care that now her hair is white. She's still the same woman he fell in love with... and this time he'll make sure they never part again.
All he needs to do is explain why he disappeared, tell her he can turn into a basilisk, and gain her trust again. After cleaning the custard off his face. And shirt. And car.
It may take driving on a cross-country road trip, solving a sixty-year-old mystery, and defeating an angry dragon and his army of not-exactly-zombies to get Rigo and Godiva back together. But anything worth having is worth fighting for...
Preview:
Click on the "Preview" button below the cover to read an excerpt of this book.