Stormwolf Summer
Shifter Cub Camp, Book 1

---

War zones and wildfires? No problem. A summer camp full of shifter kids? Oh hell no.
Buy Now!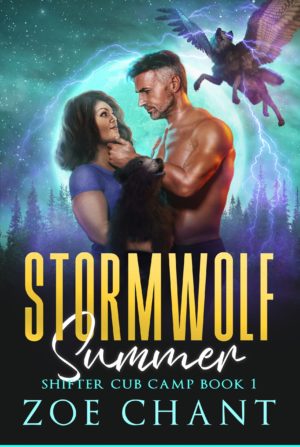 Buck Frazer has been a lot of things in his life - a Marine, a firefighter, human. And now, after an unwanted bite, he's a motherloving werewolf. With wings.
He's supposed to be enjoying his hard-earned retirement, not waking up naked on rooftops. But the feral furball sharing his skin wants to be part of a pack. And no matter how hard he fights, it keeps dragging him to one place: Camp Thunderbird. A secret summer camp for shifter kids… which is in desperate need of a camp counselor.
Two months wrangling a pack of hyperactive nine-year-olds who poof into fur every five minutes. Buck would rather swallow ground glass, but his personal curse isn't giving him a choice.
Only one thing could make this worse… and she just said, "Hi! I'm your co-counselor!"
The gorgeous woman with the sunny smile is the last thing he needs - now, or ever. Even the damn kids can see the connection between them (and are way too keen to give fate a helping hand, as if he didn't have enough problems already). Her briefest touch has the beast in him howling for release.
She's his motherloving mate.
And she doesn't… seem to have… noticed?
Which doesn't make a lick of sense. Buck knows shifters (not that he is one, thank you very much). The moment they meet their mate, every other thought falls out of their tiny skulls. And Camp Thunderbird is shifters-only, no humans allowed. The infuriating woman must know she's driving him mad. She has to be a shifter…
…Right?
Welcome to Cub Camp. It's going to be one wild summer...
Packed with laugh-out-loud comedy and sizzling passion, Stormwolf Summer is a slow-burn, steamy, grumpy/sunshine, fated mates shifter romance featuring a strong midlife heroine and a growly veteran who's determined to fight fate all the way to the end. No cliffhangers!
Author's note: Buck first appeared in Fire & Rescue Shifters: Wildfire Crew, but you do not need to have read that series to enjoy this book. But if you have read the Wildfire series, you'll see some familiar faces at camp...