Thankful for Shifters: Free Books from Zoe Chant!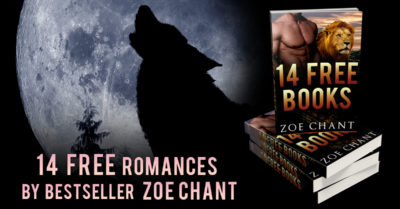 Now you've got 14 more things to be thankful for: 14 FREE books from Zoe Chant! These books are free between November 23 – November 26th.
---
A unique shifter in search of her past + a tiger shifter spy on an undercover mission + a shifters-only resort with secrets to hide = a dangerous and thrilling romantic adventure!
A curvy woman who longs for adventure + a daring lion shifter on a dangerous mission + evil experiments in a secret lab = one action-packed romance!
BBW with a broken heart + mysterious billionaire bear shifter + an unexpected storm = one sweet and sexy story!
A curvy woman desperate to protect her little brother + a bear shifter mechanic who will do anything to keep his mate from harm + a team of shifters determined to help their friend and his mate = one action-packed romance!
BBW looking for a family + hot alpha lion shifter protecting his pride + a dangerous stalker = one sweet and steamy story!
An independent BBW on the run + a sexy protective lion shifter + a pack of deadly enemies = one action-packed romance that will leave you breathless!
A curvy farmer deep in debt + a lonely rancher hoping to open his heart + a family farm hiding a hidden treasure = a red-hot rural romance!
A lonely bear shifter + a workaholic conservationist + a sudden storm = one wet and wild mountain adventure!
A curvy artist struggling with self-doubt + a panther shifter who's out of touch with his panther + a kidnapper with deadly plans = one dangerous romantic adventure!
A curvy single mom who thinks love has passed her by + a jaguar shifter whose success can't fill the hole in his heart + a cozy café = one delicious romance!
Beauty and the Billionaire Dragon Shifter
A BBW who's new in town + a dragon shifter who's new to being human + a very confused dog named Mouse = one sexy fairy tale romance!
A curvy librarian in desperate need of a date + a bear shifter in search of a home + the past that's pursuing him = one sweet and steamy small-town romance!
A curvy paramedic who doesn't know the meaning of fear + a mysterious panther shifter bodyguard with the power to inflict terror + sinister experiments and desperate passion = one heart-pounding romance!
A curious vet + a wounded werewolf + some tender loving care = one sexy, sizzling story