Thankful for Shifters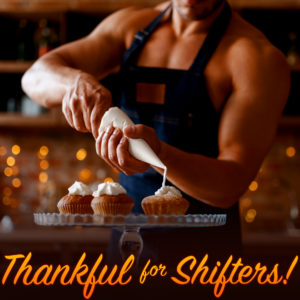 Guess who turns six this year? Zoe Chant!
Six years ago, a group of writer friends who loved shifters and romance and big growly bears got together and created the pen name Zoe Chant. We thought it would be a fun little side project. But from our very first book, Bought by the Billionbear, Zoe Chant became so much more. You fell in love with our heroes and cheered on our heroines… and so did we!
To celebrate our six-year anniversary, we're making Bought by the Billionbear one of the books we're giving you today. Nowadays we're writing much longer books, but we still love fancy cocktails, big growly bear shifters with hearts of gold, heroines who will do anything for a friend, and of course, true love. Thank you for reading.
The free books end on November 28, so grab them while you can.
Thankful For Shifters 2021

Dragon's Thief
He was looking for a thief, but he found his destiny instead.


Sheriff Bear
A small-town sheriff + a wrongly accused BBW on the run + deadly enemies and dangerous passions = a sizzling forbidden love!


The Hellhound's Un-Christmas Miracle
His past is a nightmare. And the woman of his dreams just walked into it…


Bought by the Billionbear
A BBW + a billionaire bear shifter + a bachelorette auction = a broiling-hot story!


Ruffled Feathers
He's caught in her trap. Literally.


Broken Lynx
Faced with a flock of angry wild turkeys, a sassy twelve-year-old on the cusp of growing up, and all the unexpected secrets that Green Valley is hiding, can Devon convince Jamie that home is exactly where she left it?


Silver Dragon
You're never too old for love...


Taking the Bull by the Horns
The truth is out there… and so are the hot shifter men!


The Griffin Marshal's Heart
He was imprisoned for a crime he didn't commit. His fated mate? The gorgeous U.S. Marshal transporting him ...

Thankful For Shifters 2022