The Bear and His Honey
Honey for the Billionbear, Book 3

---

An overworked lawyer in need of a break + the sexy bear shifter who'll do anything to protect her + kidnappers hired by an unscrupulous oil company = one thrilling romance!
Buy Now!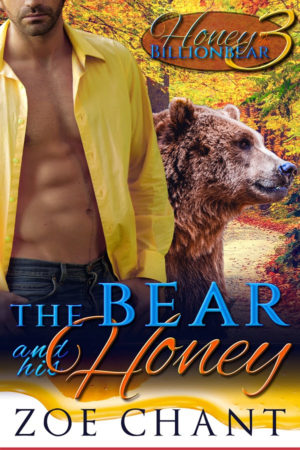 Curvy Jessica Sheppard became a lawyer to help people, not to waste her life over petty corporate infighting. Ground down by her punishing workload, a two-week vacation at her aunt's bee farm sounds like just what she needs to re-evaluate her life. In the small rural town of Mountainville, she finds peace, quiet... and hot billionaire Alan Glade.
When Jessica walks into Alan's life, he's stunned to finally recognize the woman destined to be the love of his life. But in two weeks she'll be going back to New York, where a nature-loving bear shifter like him could never be truly happy. He can't ask her to sacrifice her career, but he also can't leave his home, or the animal rescue farm he runs... especially not when it's under threat from Octane, an unscrupulous oil company.
With Octane determined to push through a project that would destroy Mountainville, even a billionaire and a hot-shot lawyer might not be enough to save the peaceful community. Can Alan protect Jessica when Octane will stop at nothing in their ruthless quest for profit? And can a big-city girl and a small-town bear finally find a place they can both call home?
The Bear and his Honey is a sizzling hot shifter romance that will leave you on the edge of your seat. It's a standalone book in the Honey for the Billionbear series. No cliffhangers!
Preview:
Click on the "Preview" button below the cover to read an excerpt of this book.