The Bear Comes Home For Christmas
---
A curvy woman who's alone at Christmas + a hard-working bear shifter who needs to get in touch with his animal side + a cozy cabin in the middle of nowhere = a red-hot holiday romance!
Buy Now!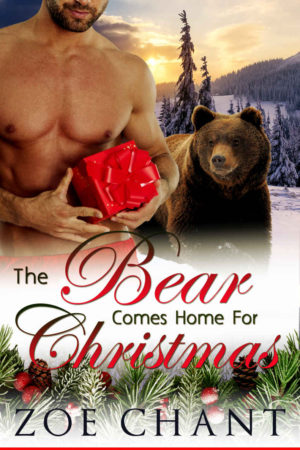 This Christmas has been more naughty than nice for Hazel Granger. Her now very much ex-boyfriend stood her up for the vacation she'd painstakingly planned, leaving her all alone over the holiday season. But after getting lost in a snow storm, Hazel finds her way to the cabin of the most handsome man she's ever seen in her entire life… but can she trust him after being burned once before?
From the moment he comes home to find her sleeping on his couch, Del Richardson recognizes Hazel as his fated mate. He knows she's the only one for him, but how can he tell her there's a surprise inside this parcel: that he can turn into an enormous grizzly bear!
The snow outside is heavy, but that doesn't stop Hazel and Del from steaming things up inside. If only Del can find a way to reveal the truth, and make this Christmas truly naughty… in all the right ways.
The Bear Comes Home For Christmas is a short and sweet standalone Christmas treat BBW bear shifter romance. No cliffhangers!
Preview:
Click on the "Preview" button below the cover to read an excerpt of this book.