The Billionaire Wolf Needs a Wife
Ranch Romeos, Book 2

---

A shy BBW teacher + a sexy billionaire wolf shifter + a mail-order bride company = a white-hot wedding!
Buy Now!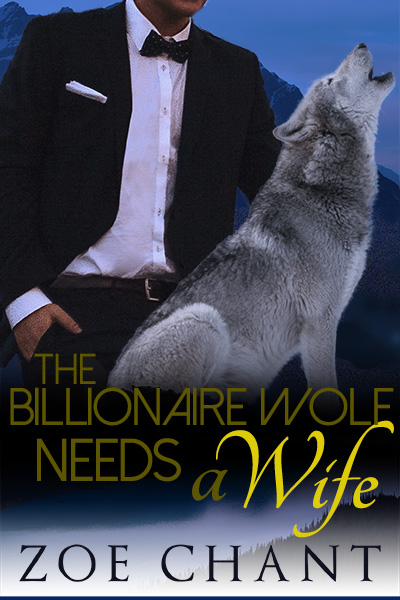 I have three conditions:
1. I want to be married as soon as possible
2. I will move in with you, rather than having you come to live with me
3. You must agree not to ask any questions about my past
I realize that this situation is very unusual. Therefore if you accept my conditions, I am willing to pay you a million dollars, even if the relationship doesn't work out.
That's the email Robin Tucker, a small-town kindergarten teacher, receives one morning. The money would be nice, but being married to Austin Sullivan, the hottest man she's ever seen, would be even nicer. She's spent her life being too shy to take a chance on adventure, and Austin could show her a whole new world. But is he hiding a dark secret? Or could saying yes to his offer be the best decision she's ever made?
Austin wants to leave his family of dangerous and dishonorable wolf shifters. A wife would be the perfect excuse to move away from home and start a new life. But once he meets Robin, sparks fly, and he realizes that she might be the mate he never believed he could find. Can he protect her when his brothers come looking for them both?
This is a sizzling hot, standalone BBW werewolf romance. No cliffhangers!
Preview:
The car in the street outside was a deep midnight blue, the color of the night sky in between the stars.

Robin didn't know much about cars, but this one looked expensive: sleek and aerodynamic with tinted windows. It was low to the ground, like a cat stalking its prey, and had only two doors; it was definitely not the car of someone who had to worry about driving around soccer teams or major loads of groceries. It was a car made for racing, for hugging the tight curves of a highway, for letting the wind blow through your hair.

The door opened, and out stepped a man who must be Austin Sullivan. Despite how much time she'd spent admiring photographs of him on the web, Robin couldn't stop herself from gasping at the sight of him in person.

He was unbelievably handsome, with the unconscious grace of an athlete or a dancer. He was tall and lean, but his shoulders were so broad that they strained the white t-shirt he wore. The sleeves had slid up enough to reveal the bulge of his biceps, the finely cut lines of his muscles, which bunched up to look even bigger as he pushed the car door closed.

He moved around to the back of the car and opened the trunk to pull out a suitcase. He wore jeans that were skintight, showing off every inch of his long, firm legs, and as he bent over the car, she had a fantastic view of his ass. It was perfect, muscled but with just enough flesh that she could imagine grabbing the cheeks and squeezing –

Robin blushed. Oh my god, I can't believe I'm checking out his ass. She was grateful that he was too far away to know she'd been staring.
Preview:
Click on the "Preview" button below the cover to read an excerpt of this book.