The Dragon Prince's Baby Bargain: A Howls Romance
---
This dragon will set your heart on fire!

He's a dragon prince promised in an arranged marriage to a princess who's just disappeared.

She's a lonely virgin on vacation who just happens to look exactly like the missing princess.

Has he got an offer for her...
Buy Now!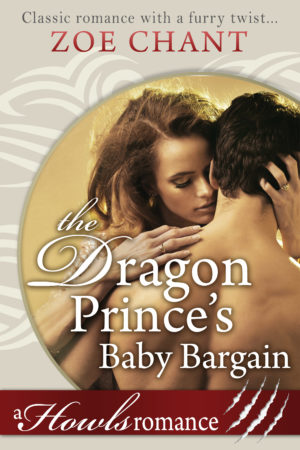 Prince Victor can't inherit the crown until he fathers a child on a woman of royal blood. For the sake of his kingdom, he agrees to an arranged marriage to a princess... who up and vanishes the day before the wedding.
Debbie Jameson, a virgin 7-11 clerk from Tennessee, was thrilled to win an all-expenses paid vacation abroad. But much bigger thrills are in store for her when the alpha dragon shifter Victor sweeps her off her feet with an offer she can't refuse: impersonate the missing princess, marry him, and have his baby!
It's a fairytale romance... until someone who definitely isn't a noble knight tries to slay the dragon's mate. Can Victor protect his beloved Debbie from mysterious assassins? And what happens if the real princess returns?
A wild ride full of romance, action, and plenty of humor, The Dragon Prince's Baby Bargain is a must-read for fans of Celia Kyle and Terry Bolryder.
This book is very special--it's my first Howls Romance! Celia Kyle, Milly Taiden, Harmony Raines, and other great shifter writers who love Harlequin romances got together to write books in a similar style... with a shifter twist!  I was thrilled when they invited me to join them.
I hope you have as much fun reading The Dragon Prince's Baby Bargain as I did writing it. And if you're a fan of Protection, Inc., look out for a special cameo!
Contains steamy scenes between a lonely woman who wants a family and a sexy dragon shifter who wants to make her his queen.
Preview:
Click on the "Preview" button below the cover to read an excerpt of this book.