The Hellhound's Un-Christmas Miracle
A Mate for Christmas, Book 4

---

His past is a nightmare. And the woman of his dreams just walked into it…
Buy Now!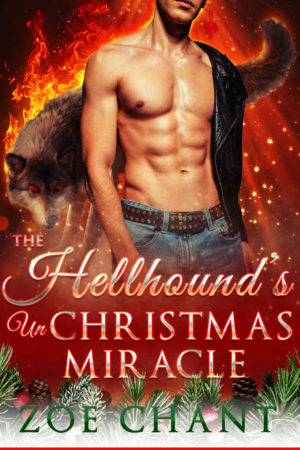 Hellhound shifter Fleance thought he'd escaped his evil former alpha for good – and the life of crime and misery he was forced to live. But when he loses control of his hellhound, Fleance realizes the past isn't as far behind him as he'd hoped. If he wants to protect his new pack, he needs to track down Angus Parker and make him pay for what he did to Fleance and the others. Even if he needs to travel to the other side of the world to do it.
The last thing he thought he'd find there was his fated mate. Suddenly, his pack isn't the only thing he needs to protect.
New Zealand sheep shifter Sheena can't wait to escape her rural life and overbearing shifter family. She's sick of being treated like she can't take care of herself just because her inner sheep is so tiny and adorable. Except… it's kind of… true? Her sheep isn't just tiny, it also has a major habit of wandering into danger. Even when she's in human form.
So it's almost a relief when her fated mate turns up to save her from the fiery death she accidentally ran straight into (whoops) and the terrifying hellhound shifter who wanted to make her its new chew toy. Fleance is a dream come true.
Except for the little matter of his previous alpha biting her.
Sheep shifters can't be turned into hellhounds… right?
Preview:
Click on the "Preview" button below the cover to read an excerpt of this book.