The Saber Tooth Tiger's Mate
---
A BBW recovering from a bad break-up + a sexy saber tooth tiger shifter + a sinister stalker and a deadly duel = one heart-pounding romance!
Buy Now!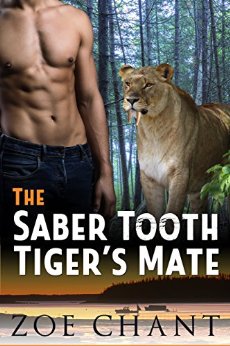 Curvy graphic designer Gwen Brooks is shocked when her boyfriend breaks up with her out of the blue. Sure, he'd never set her heart on fire, but she knows that sort of fairy-tale romance doesn't happen in real life. Gwen takes herself and her heartbreak to the sleepy Maine coastal town of Catseye Cove, to help fix up an old family home. But when she meets Jace, the sexy carpenter who's restoring the house, she realizes that some fairy-tales just might be true after all.
Saber tooth tiger shifter Jace Wyatt has spent his entire life in hiding, along with his clan. If anyone tracks them down to Catseye Cove, an ancient shifter blood feud could get them all killed. So Jace works as a carpenter and tries not to dream of anything more. But the moment he sees Gwen, Jace knows that she's his mate. Can he trust her with the secret he's built his entire life around?
When old enemies resurface, Gwen and Jace have no choice but to confront their pasts-- and their desires. Will they survive the clash of the clans? Can they reconcile their differences and make a home for each other in the only place that matters… their hearts?
This is a sweet and sexy BBW saber tooth tiger shifter romance. It has a guaranteed HEA, with no cliffhangers!
Preview:
Click on the "Preview" button below the cover to read an excerpt of this book.