Tor
Westerly Cove, Book 1

---

He'll protect her with his life and give her his heart... if her terrible cat lets him.
Buy Now!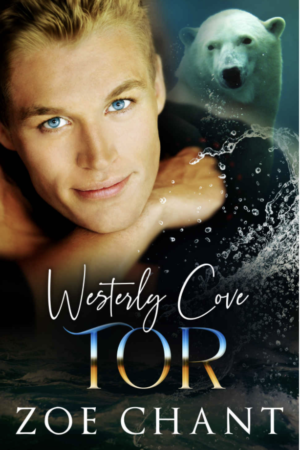 Grieving artist Bernie has one thing left to love: her awful cat Pennywise. Everything else was left behind when she ran across an entire continent to escape the tragedy that destroyed her life. In this beautiful fishing town, she hopes to rebuild her shattered heart surrounded by the solitude and splendor of the wild Canadian coast.
By her second day in Westerly Cove, someone is trying to kill her, the lighthouse she just moved into appears to be haunted, and if the killer and the ghosts don't get her, then her demon cat is going to wreck her social life (not to mention her backseat, and the curtains, and the groceries).
And the most gorgeous man she's ever seen just walked into her lighthouse.
Big, burly, gruff bear shifter Tor is a born protector who has spent his life taking care of his rowdy, unruly family. But what he truly craves is a den and a mate of his own.
Then a beautiful, wounded woman moves into the lighthouse on the point.
The moment Tor lays eyes on her, he knows that she's his fated mate.
And he would do anything to keep her safe—whether that's unmasking a killer, solving a ghostly mystery, or even learning to love her truly unbearable cat.
Jump into a brand new series from Zoe Chant, featuring a beautiful, magical shifter town, a sexy, protective hero, a tough heroine picking up the pieces of her shattered heart ... and a cat only his owner could love.
Preview:
Click on the "Preview" button below the cover to read an excerpt of this book.