Tropical Bartender Bear
Shifting Sands Resort, Book 03

---

A curvy black woman in disguise + a hot bartender bear shifter + a male beauty pageant at a shifters-only resort = a romantic adventure that bares it all!
Buy Now!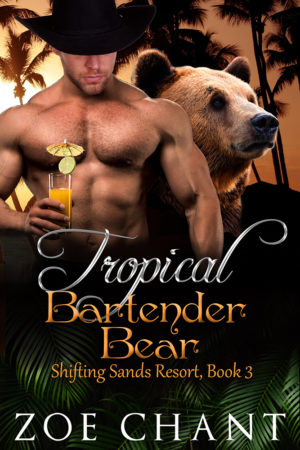 When you're in trouble with the mob, there's only one thing to do: Assume your twin sister's identity, escape to a tropical island resort, and lay low while enjoying a generous slice of beefcake courtesy of the World Mr. Shifter pageant. At least, that's wolf shifter Laura Smith's strategy. She didn't plan on finding the most gorgeous man at the resort behind the bar… or guess that he would be her one true mate! But as long as he thinks she's her sister, giving in to her heart means blowing her cover.
Bear shifter Tex Williams knows he's unlucky in love, but this is ridiculous. A woman he met once years ago turns up again, and suddenly she's his one true mate? Why didn't he recognise her at first sight? And why does she deny their bond now?
Things heat up, in and out of the sheets, when someone tries to poison Laura and Tex has to risk everything to protect her. Can Laura learn to trust Tex as the attempts on her life escalate? Is there a hitman among the hunks? Between the hot guys and the hidden agendas, this is one wild week at Shifting Sands Resort!
Tropical Bartender Bear is a scorching, action-packed, standalone BBW, BWWM interracial shifter romance. No cliffhangers!
Preview:
Click on the "Preview" button below the cover to read an excerpt of this book.