Tropical Leopard's Longing
Shifting Sands Resort, Book 08

---

Her marriage of convenience isn't as convenient as she hoped...
Buy Now!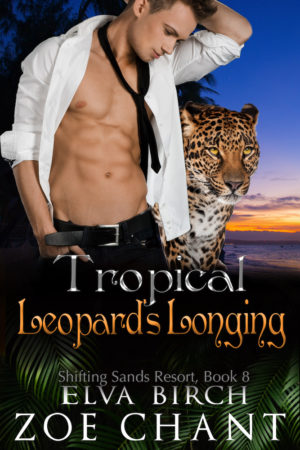 Snow leopard shifter and heiress Darla Grant thought that marrying her best friend would be the solution to all of her problems: it would shelter her from a persistent and unwelcome suitor, unlock her inheritance to save the bankrupt shifter retirement home where she volunteers, and free her from her controlling society mother.
Then she meets her fated mate at the tropical luxury resort reserved for her wedding, and her perfect plan turns into perfect torture.
Leopard shifter and waiter Breck is everything her mother despises: poor, common, and openly bisexual. No matter that he's also charming, funny, and kind—even if Darla could switch grooms, her mother would never give her blessing to the match and the suitor she was trying to escape isn't going to give up her fortune without a fight.
But there's more to Breck than a ready smile and thoughtful service.
And he's always been up for a challenge…
TROPICAL LEOPARD'S LONGING is a steamy standalone paranormal shifter romance novel in the Shifting Sands Resort series. If you're looking for a sizzling, humorous, and heartwarming read with a guaranteed happy ever after and no cliffhangers, scroll up and one-click today!
Preview:
Click on the "Preview" button below the cover to read an excerpt of this book.