Tropical Lion's Legacy
Shifting Sands Resort, Book 09

---

He's looking for forgiveness. She's looking for a fighting chance.
Buy Now!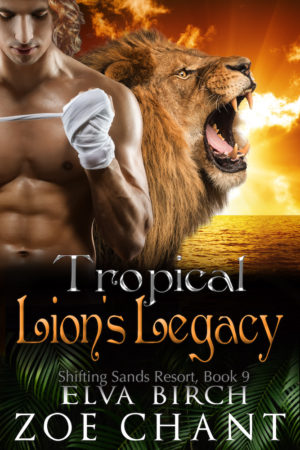 Graham Long left his career—and his real name—behind to make a fresh start for himself at Shifting Sands. He's done with dueling, and wants nothing more than to quietly raise his strawberries and tend the lawns at the tropical shifters-only resort.
A fight is the last thing he wants when his lion insists that his friend's bear shifter bridesmaid is his destined mate.
But fiercely independent Alice Anders has a life of her own already. She's not going to turn her back on the people who need her and the job she loves just to run away to a tropical island paradise with a gorgeous gardener that makes her knees weak with one blue-eyed glance. She's not at the resort to find her own true love… and she's not there only as a bridesmaid, either. She's been given a fighting chance to save her family: all she has to do is uncover the shift form of the mysterious resort owner, Scarlet, for an equally mysterious man for whom money is no object.
Between the secrets they're keeping and the answers they're searching for, it's a hard road to honesty, and harder road still to a happy ever after.
Can Graham keep ahead of the enemies from his past? Will Alice figure out who he really is… and if she does, will she ever be able to forgive him for the things he's done and the secrets he's keeping from her?
TROPICAL LION'S LEGACY is a steamy standalone paranormal shifter novel in the beloved Shifting Sands Resort series. For a hot (occasionally hilarious) and heartwarming happy ever after, one-click today! A bonus short story, REUNION, is exclusive to this book.
Preview:
Click on the "Preview" button below the cover to read an excerpt of this book.