Tropical Lynx's Lover
Shifting Sands Resort, Book 04

---

He's a handyman lynx shifter who can fix almost anything... Except for his mate's shattered soul.
Buy Now!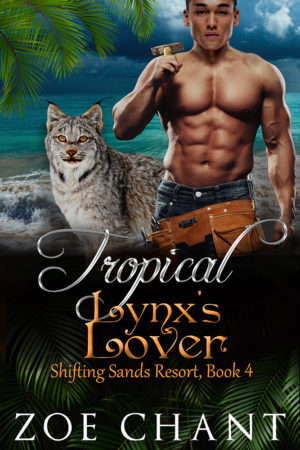 Even a tropical paradise has its problems. When something is broken, native Alaskan lynx shifter Travis is always the man for the job. As the handyman in charge of maintaining the beautiful all-shifter resort of Shifting Sands, he's never found anything he can't put back together… until he meets his one true mate.
New to being a shifter, curvy black Jenny Smith isn't used to having an otter in her head, or all of the inappropriate ideas it has. She can't control her shifting, and she can't even remember how to read, let alone return to her life as a lawyer. She finds herself randomly with whiskers, and wanting to wash her food in saltwater, and now there's a gorgeous man her otter says is her fated mate. But does saying yes to Travis mean losing what's left of her human self?
Shifting Sands Resort is a safe haven for shifters of all types, but a storm is coming, and with it, grave danger from Jenny's past. Can Travis rescue his mate and show her how to love her whole self… and himself as well?
A perfect mix of hot romance, wild action, and side-splitting humor, Tropical Lynx's Lover will sweep you away on a romp reminiscent of TS Joyce, Terry Bolryder, or Sherrilyn Kenyon. Book four of the Shifting Sands Resort series, it is a short standalone novel with no cliffhangers. If you're looking for an adventure-filled, paranormal, multicultural romance, pick up a copy of Tropical Lynx's Lover today!
Preview:
Click on the "Preview" button below the cover to read an excerpt of this book.