Tropical Panther's Penance
Shifting Sands, Book 06

---

He ain't no one's idea of a true mate.
Buy Now!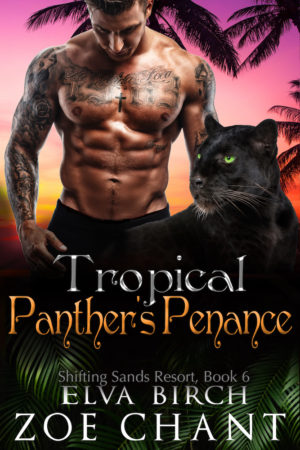 Panther shifter Wrench hasn't got the first frickin' clue about poems and flowers and all that crap. But he's gonna learn, or die trying. He ain't giving up on the best thing to ever happen to him. Lucky he's got new friends at Shifting Sands Resort to teach him how to woo a lady right…
Yoga instructor Lydia and her inner swan always knew she'd meet her one true mate, but she never imagined a tattooed, six-foot-six felon. She has to have faith that he's her perfect match…but why won't he let her get to know the real man under those sexy muscles?
When danger from Wrench's past comes calling, he's suddenly got more to worry about than how to deliver a compliment without making it sound like a death threat. Now he has to protect his new home from his old boss, keep his nosy eight-year old niece out of trouble and under wraps, and win his mate. Without getting killed, sacked, or slapped.
Life workin' for the mob ain't nothing compared to the dangers of romance…
Combining laugh-out-loud humor with sizzling heat, the Shifting Sands Resort series will sweep you away to a tropical paradise where clothing is optional but the romance isn't! All the books are standalone and can be read in any order. Contains steamy scenes between a Latina heroine and a hunky, tattooed felon with a heart of gold. If you're looking for a hilarious, multicultural paranormal romance, pick up a copy of Tropical Panther's Penance today!
Preview:
Click on the "Preview" button below the cover to read an excerpt of this book.