Tropical Tails
Shifting Sands Resort, Book 11

---

Reunite with some of your favorite characters on a tropical escape to a luxury resort for shifters only. Meet new shifters (and one confused human) who find love and family on the mysterious island of Shifting Sands.
Buy Now!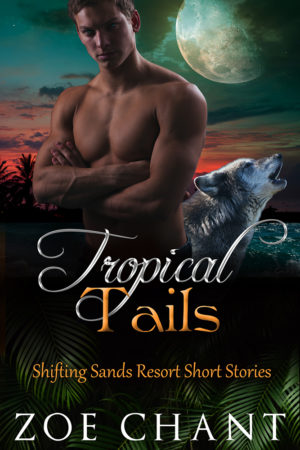 In Her Hellhound Bodyguard, cat shifter—and cat burglar!—Christy has to navigate the Mexico City airport, find a missing shifter elder, and avoid getting killed. Hiring her mate for protection wasn't part of her vacation itinerary...
In Fake Fur, a group of clueless human furries are accidentally booked at Shifting Sands, to the amusement of the real shifters. But wolf shifter Calvin isn't laughing when he realizes that the beautiful woman in faux fur fox ears is his mate.
In A Hoard of Their Own, Darla returns to her ancestral home and claims the hoard from the memories that taint it...with Breck's expert help.
In Run, learn the tragic secrets of Gizelle's parents as Janine and Evan go on the run from the enemies who threaten their freedom...and their daughter.
Also, find out how Bastian came to Shifting Sands, what Tex's first exciting day was like, and witness Scarlet's first hint that something was terribly wrong on her island. Join Saina and Lydia for a dance lesson, witness Gizelle's wedding, go on a cruise with the staff, and get a tantalizing look ahead at what's coming next for Shifting Sands...
In these seventeen short stories, ranging from flash fiction to standalone novellas, discover all the in-between events of the beloved Shifting Sands Resort series. From hilarious to heartbreaking, this collection is a must-read for fans of the series, or anyone who wants a sampler plate of shifter shorts with adventure, romance, magic, found family, slice-of-life vignettes, and humor with heart.
Preview:
Click on the "Preview" button below the cover to read an excerpt of this book.