Trusting the Tiger
---
A lonely BBW who can't shift, on vacation with her shifter family + a billionaire tiger shifter looking for a family + a kidnapping plot that threatens to rip them apart = one sexy and dangerous weekend getaway!
Buy Now!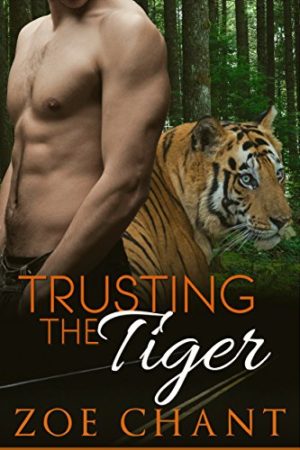 Curvy Toni Oglietti comes from a family of cat shifters ... but she's the only one who can't shift. She feels like she's missing out on everything, but what hurts the most is knowing that she'll never have a mate. Dating a human would risk her entire family, but shifters only mate with other shifters. When her young niece and nephew ditch her on a family vacation, she faces another weekend on the sidelines ... until the most handsome man she's ever met makes it his mission to show her a good time.
Tiger shifter Jack Silver lost his family when he was young. He's met other shifters since then, but has never found a place that feels like home. But when he returned to his family forest, he found the last thing he expected: the mate he'd been searching for all this time. Shifter or not, Jack knows Toni is the one for him.
When a shadowy figure from Jack's past kidnaps Toni's niece and nephew and threatens to destroy their newfound happiness, Toni and Jack must work together to save her family - and each other. But can a shifter and a human ever be true mates?
Trusting the Tiger is a sizzling hot, action-packed, standalone BBW tiger shifter romance. No cliffhangers!
Preview:
Click on the "Preview" button below the cover to read an excerpt of this book.