Veteran Shifters Box Set 1
Veteran Shifters, Book 3.5

---

Love. Loyalty. Family. Freedom. These veterans served their country and their communities alone…until they met their mates.
Buy Now!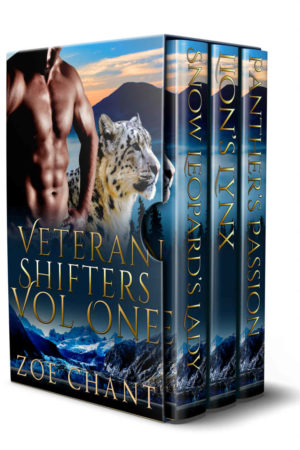 Deep in the Rocky Mountains, shapeshifters run openly through the forests. Slowly, a community has been growing by Glacier National Park. And three different Marine veterans arrive there, not expecting to stay forever—until they meet the women they know they'll spend their lives with. But their happiness won't come without a struggle. Can they overcome hardship and heartbreak to build new love, and new families?
Combining sizzling passion with deep love and a touch of adventure, the Veteran Shifters series is a must-read for fans of T.S. Joyce, Terry Bolryder, and Harmony Raines. With 300+ five star reviews, 16,000 copies sold, and 6 million Kindle Unlimited pages read, these spellbinding books have captivated paranormal romance readers worldwide.
Now you can save 30% on the first three books with this convenient box set. Contains strong mature heroines, dangerous enemies, hunky Marine vets, gorgeous vistas, and absolutely no cliffhangers!
One-click now for three beautiful tales of searing passion, love, and family!
Preview:
Click on the "Preview" button below the cover to read an excerpt of this book.