Wild Flight
---
A BBW burned by love + a hot eagle shifter who's ready to dare + wild passion on a stormy night = a love that was meant to be!
Buy Now!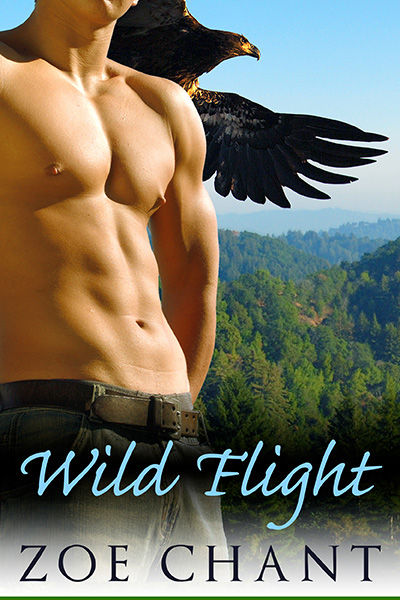 All her life, Summer has been traveling from one adventure to the next, always searching for something different, something more. And where has it gotten her? Flat broke and picking up the pieces of her life, evading a stalker ex.
Falling for her new landlord Brandon would be a disaster waiting to happen, and Summer has sworn off disaster – and adventure too. But Brandon's dark good looks and his air of mystery lure her on. Could he be the destiny she always dreamed was out there?
All his life, Brandon has played by the rules and flown under the radar – literally. As a were-eagle, he's carefully guarded his shape-shifting secret while seeking success in the human world. And where has it gotten him? Laid off from his high-paying tech job, renovating his grandmother's house, renting out the studio to someone who'll work on the remodel for free.
His new tenant Summer is exactly the sort of starry-eyed dreamer he never thought he could trust, but her courage and her curvy beauty haunt him. Has he finally found his mate?
This is a standalone BBW shifter romance. No cliffhangers!
Preview:
Summer woke up to a whip crack of lightning, with bone-rumbling thunder only a split second behind it. Her heart hammered and she curled in on herself, uncertain for a moment where she was. The next lightning flash lit the angles of the folding screen, and the day came back to her.

Rain pounded on the roof and splattered against the windows. Her heart wouldn't calm. A storm shouldn't affect her like this – she'd ridden out worse in leaky tents. Pulling her sleeping bag around her, she went to the window. Across the lawn, she saw Brandon in the main house, lighting candles in the living room. Just that glimpse of him, that moment of human connection, felt like a life line thrown to her. She stood at the window and watched him. He came to his window and looked out, and Summer knew in her bones that he was watching for her.

She let the sleeping bag drop, and after the next lightning strike, she opened her door and ran barefoot toward the house. The rain hit everywhere; she was drenched to the skin in moments, her thin clothes clinging to her sensitive skin. Brandon opened the door before she even stepped on the porch. He had been watching.
Preview:
Click on the "Preview" button below the cover to read an excerpt of this book.