Wildfire Griffin
Buy Now!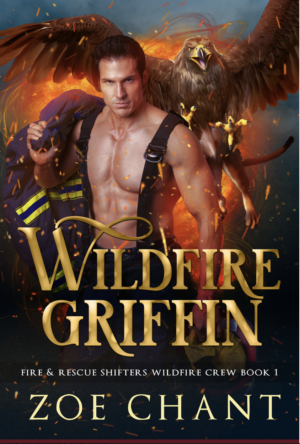 When firefighter Rory lays eyes on fire watcher Edith, he instantly knows she's the one. His fated mate.
Now, to win her heart, he just has to protect her from:
1. A raging wildfire (actually, she's already got that covered, thanks)
2. The lightning-throwing invisible monster that started it (um, the what?)
3. Killer bunnies (don't even ask)
4. The appalling matchmaking attempts from his crew of misfit shifters (not only is this guy scorching hot, his dog is adorable too. And...weirdly smart?)
5. His own animal need to claim her. Now. (if only she could look him in the eye…)
Good thing that as a powerful alpha griffin shifter, he can handle anything…right?
There's only one problem.
The last thing this autistic woman wants—or needs—is to be protected…
Zoe Chant returns to the hot, hilarious world of the Fire and Rescue Shifters with an all-new series starring an all-new crew - now wilder than ever! If you love heartwarming romance heaped high with humor, magic, and action, one-click this addictive paranormal romance today!
Preview:
Click on the "Preview" button below the cover to read an excerpt of this book.